Day of Details
Jessica and I are excited for our wedding and to celebrate with YOU! Here are some details about what to expect for this Saturday:
Attire: Formal, but fun - You'll see a range from men wearing slacks with a dress shirt to some wearing suits.
***Have some fun and wear something that makes you feel like a million bucks!***
Parking: If you are driving in, we have valet for you. Pull up to the front of the restaurant where the valet will take your car. We have already paid for the valet, so the only thing you'll have to do is tip your attendant. (Venue: 1112 2nd St, Sacramento, CA 95814)
For those of you staying at the host hotel (Embassy Suites), the venue is within walking distance and is only about a five minute walk from the hotel.
Gift Registry: We are looking forward to traveling a bunch in our first year as a married couple. If you are looking for the perfect gift, please help us see the world. You can find the registry link- HERE.
Weather: The weather is shaping up to be very nice, temperatures to be high of 85 & low of 56 degrees. The ceremony and reception will be outside in the courtyard.
Starting time: The doors open at 5:30pm. You'll be able to relax and grab your seat for the ceremony. We will start PROMPTLY at 6pm. If you are unfamiliar with the location, please take a few moments to know where to go so there won't be any confusion.
Directly after ceremony: We are hosting a cocktail hour directly after the ceremony. Enjoy passed appetizers, hosted beer, wine and cocktails. Grab a cocktail, take pictures at the Photo Booth, get to know each other & enjoy the live band. After the hour we'll enjoy dinner, speeches & get to some dancing.
After Party: Once the reception concludes at 10:30 please follow Mr & Mrs Poladi to "The Back Door" bar which is located literally 15 feet from the Firehouse Courtyard. It's a small, fun dive bar where we can have a great time finishing the evening.
We are so happy that you are going to be a part of our special day. We can't wait to share this moment with you!
Imran and Jessica
Accommodations
Embassy Suites by Hilton Sacramento Riverfront Promenade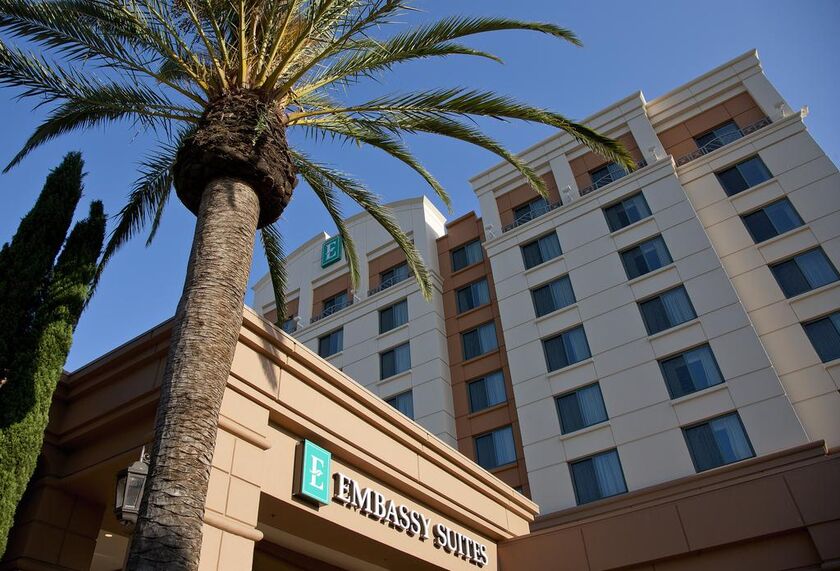 100 Capitol Mall, Sacramento, CA 95814, USA
916.326.5000

There's many choices in Sacramento for you to stay at, but we found the Embassy Suites to be super convenient. It's within a very short walking distance of the wedding venue (5 minute walk) and most of the guests and bridal party will be staying at this host hotel.

Below is a list of three ways you can make your reservation:
2.) Go to www.sacramento.embassysuites.com and make a reservation using the group/convention code: POL. This will reduce the room rate from $289 to $199!
3.) Call (916) 326-5000 and ask for the Poladi Wedding discount rate.
Please keep in mind that all reservations must be in by: Friday, October 5, 2018.
Embassy Valet
$32/night
Embassy Suites Shuttle Option
The complimentary airport shuttle runs from 6:15am - 10:00pm-typically on the hour.
Call (916) 326-5000 when you land and the hotel will dispatch the shuttle to come pick you up (white van with Embassy Suites logo on the side). Call the hotel immediately upon landing in Sacramento to help minimize wait times. The hotel operator will inform you of approximate ETA of the shuttle.
Return trips to the airport usually leave on the hour and can be scheduled with the Front Desk.
Embassy Suites Parking
City Garage across the Hotel, and the Parking Lot located behind the hotel- strictly operated by the city, and the information below were taken directly from the City Website: http://www.cityofsacramento.or...
TOWER BRIDGE PARKING GARAGE (Located directly across the Hotel)
Daily Rates (6 a.m. to 6 p.m.)
$1.50 each half hour $15.00 day maximum charge
Evening Rates (6 p.m. to 6 a.m.)
$9.00 nightly maximum charge
(For more parking info and options email Jessica at Jessica.Morrison06@gmail.com)